http://www.bbc.co.uk/programmes/b03t0d93 Im in after about 32 minutes. Not much on there, but pha.
Boxing in Art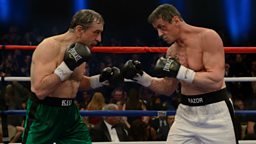 Boxer Handsome by Anna Whitwham is available in hardback and e-book now.
S J Fowler will be reading some of his poetry at
The Poet is a Boxer
at the Poetry Library in the Southbank Centre, on Wednesday 5 February.
The Grudge Match (pictured) is in cinemas nationwide now, certificate 12A.
Mike Tyson: Undisputed Truth show will be at dates across the UK in March.